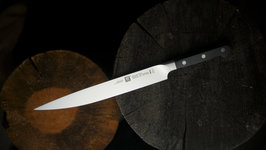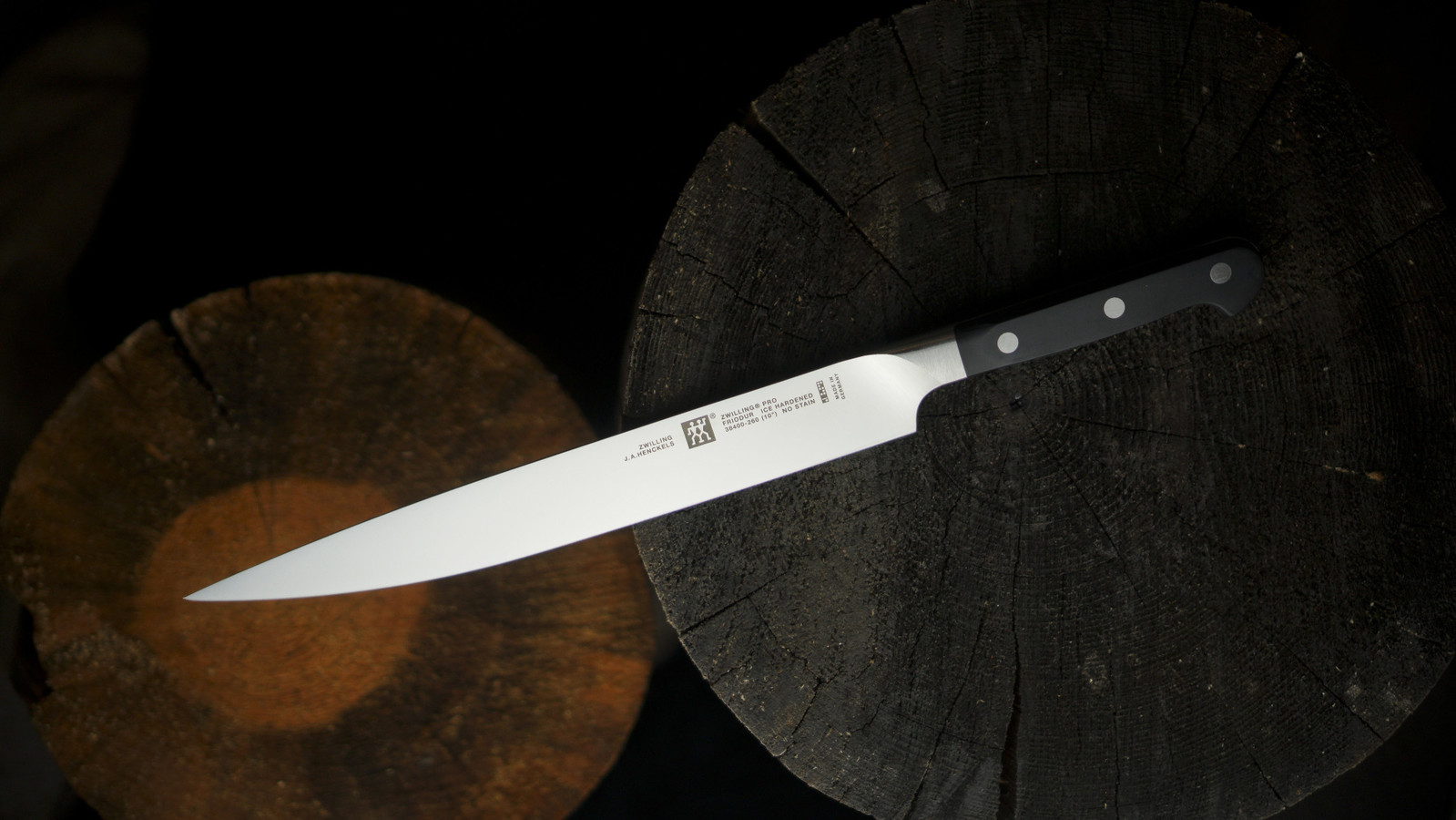 ZWILLING Pro is the most user-friendly knife available to market. The unique blade shape and ergonomic bolster are the result of 280 years of experience in knife making, and the rigorous study of how knives are used. A unique curved bolster supports the professional pinch grip, with thumb and index finger on the blade, for safe cutting and less fatigue. The full tang and handle are triple-riveted for superb stability. The POM handle is durable and resilient. 
The blade was redesigned with a broader curve in the front to facilitate the rocking motion of Western cutting, while the straight back is ideal for the Asian chopping motion. The SIGMAFORGE knife is forged from a single piece of Special Formula High-Carbon NO STAIN stainless steel. The full length of the blade can be used when cutting and can be sharpened from bolster to tip. The ice-hardened FRIODUR blade starts sharper, stays sharper longer, and has superior resilience. The precision-honed blade and laser-controlled edge ensures ideal cutting angle for sharpness and durability.
Designed in Italy by Matteo Thun and made in Germany by ZWILLING J.A. Henckels, the company that sets the standard for exceptional cutlery worldwide. The ZWILLING Pro 10-inch slicing knife has a long, slender blade for precise, clean cuts.
Dishwasher safe, hand wash recommended. 
Technical Specifications
Overall Length: 14.87 in (37.77 cm)
Blade Length: 9.84 in (25 cm)
Blade Material: Special Formula Stainless Steel (55-58 HRC)
Blade Style: Plain Edge, Fine Edge, Full Tang
Weight: 10.08 oz (285.76 g)
Handle: Black POM, Concealed Tang
Mechanism/Lock Type: Fixed
Use: Kitchen, Slicing
Origin: Germany
Item Number: 38400-263
This item is no longer for sale online
Return
Home
to see the current sale items or learn about visiting the store for in-store only items.
Reviews(0)
0
stars based on
0
reviews