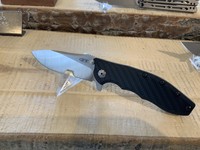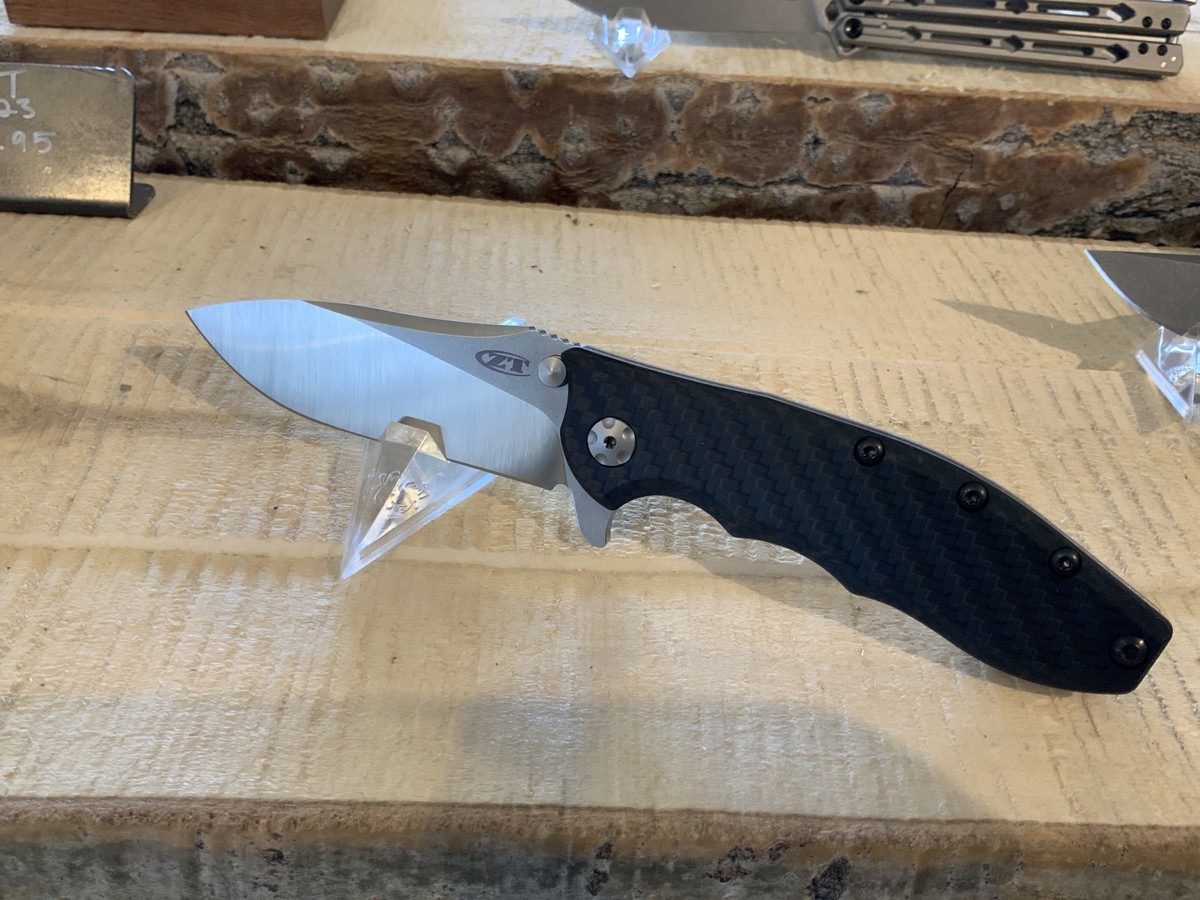 The cousin of the 0562, this ZT features the same special Rick Hinderer flat-ground "slicer" grind that provides both slicing efficiency and a tough point, but on a CPM 20CV powdered steel blade.
CPM 20CV has a high volume of vanadium carbides and a high amount of chromium. You get exceptional edge retention and outstanding corrosion resistance.
The 0562CF's handle has a carbon fiber front scale and stonewashed titanium back. For secure lock up during use, ZT uses a frame lock with hardened steel lockbar inserts and lockbar stabilization.
The knife opens with a flipper and moves out of the handle on our smooth KVT ball-bearing opening system. A washer with caged ball bearings surrounds the pivot and makes opening the knife nearly frictionless; just pull back on the flipper and add a roll of the wrist and the 0562CF is ready for action.
The unique pocketclip is reversible (left/right) and enables extra-deep carry in the pocket.
Earlier production runs of this knife were made with M390, then CTS-204P steel blades; you may still find some of these blades in the marketplace. Current production uses CPM 20CV. Which blade steel your knife has depends on when it was made.
Technical Specifications
Overall Length: 8.3 in (21.1 cm)
Blade Length: 3.5 in (8.9 cm)
Blade Material: CPM 20CV
Blade Style: Plain Edge, Satin and Stonewashed Finish
Closed Length: 4.8 in (12.2 cm)
Weight: 5.5 oz (156 g)
Blade Thickness: 0.156 in (0.396 cm)
Handle: Black Carbon Fiber Front, Stonewashed Titanium Back
Clip Type: Deep-Carry
Clip Position: Reversible Tip-Up
Mechanism/Lock Type: KVT Ball Bearing, Flipper, Frame Lock, Lockbar Stabilizer
Use: Everyday
Origin: United States
Item Number: 0562CF
This item is no longer for sale online
Return
Home
to see the current sale items or learn about visiting the store for in-store only items.
Reviews(0)
0
stars based on
0
reviews